[blog·ging] –verb
the art of rambling for the whole internet to see
Blogs from April 2015
| Tweet |
|
…marketing and social media fanatic, Kelly Brophy! A graduate from Villanova University, she joined the corporate world right out of the gate from college, doing digital marketing for Time, Inc. But, this fall, as the weather turned cold in smalltown CT and the skies began to threaten snow, Kelly decided she'd had a few too many grey winters out East. On a whim, she packed up her car and drove halfway across the country to the mountains, landing a job teaching skiing for Golden Peak in Vail. Once she realized that she couldn't get the ski bum "out of her system," she decided to find a job that would let her stay here in the Valley and put her degree back to work.
A lover of all things social, Kelly understands that the best way to market a brand on social media is to make it a party! Growing up a millennial, she knows how to work each platform to give users a different means of creating a lively, upbeat environment that fosters conversation between current and potential...read more
0 comments | Leave a comment
---
| Tweet |
|
More and more consumers are moving between devices, with many of them even using two or more devices simultaneously. The ever-increasing popularity of mobile devices allows marketers newfound access to consumers along the path to purchase from brand awareness through conversion. In order to capitalize on the consumer's multi-device usage, it is essential that a website have a responsive design that allows it to be viewed on mobile, tablet, and full-screen computers alike. Basically, this means that the website will present an optimized layout regardless of the device on which it is being loaded. A website's workability can be limited when it has not been optimized to be viewed on a tablet or mobile phone, which can be a frustrating experience for users of these devices, and can cause them to abandon their search, leaving the marketer with one less customer.
The importance of responsive design versus simply creating a "mobile version" of a website is the fluidity that a responsive...read more
0 comments | Leave a comment
---
| Tweet |
|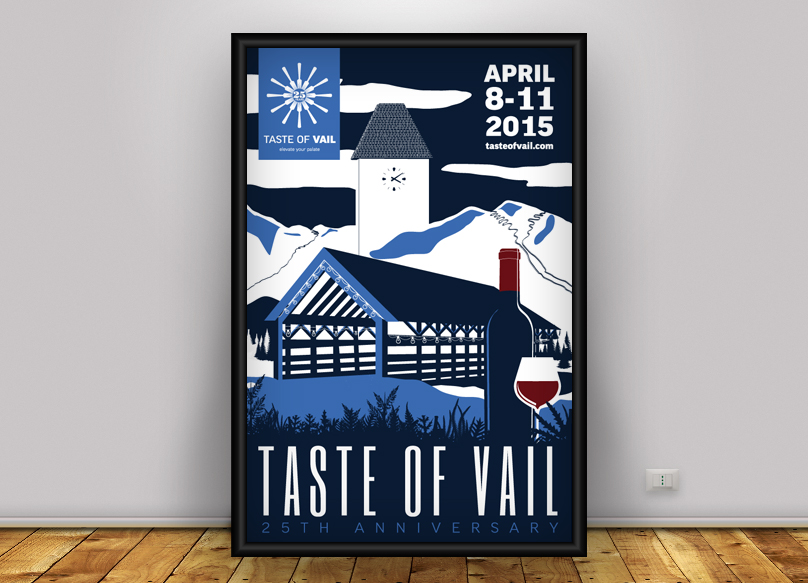 The 25th anniversary Taste of Vail is this week and we are so excited for this incredible Vail Valley event that is always a great way to ring in the end of the Vail Ski season.
The Taste of Vail honored Avid Design by asking us to create a piece of art to commemorate the 25th anniversary of the event, that would help capture the essence of the wine and food festival, as well as the beauty of Vail. The selected design, was the vision of our talented Art Director, Coni Terrado who used various digital techniques to create an abstract work of art, which depicts several iconic locations found in Vail Village and on Vail Mountain. Congratulations Coni!
Learn more about the Coni's inspiration from the recent write up found in the Vail Daily, and click here to buy your 25th anniversary Taste of Vail poster now!
0 comments | Leave a comment
---
Blogs from February 2015
| Tweet |
|
Gore Range Partners is an independent investment banking advisory firm with proven capital raising, restructuring and execution expertise across global capital markets. This middle market investment banking advisory firm is formed around a broad base of risk management, investment banking, and capital markets experiences to provide capital raising and structuring advisory services to senior management and board of directors.
For their project, Avid Design was entrusted to create a new identity kit to re-enforce the Gore Range Partners' brand, as well as a mobile friendly website to ensure the optimal user experience across all devices.
If you, or your firm are looking for objective structuring and business risk decision making experience, then be sure to reach out to our friends at Gore Range Partners.
0 comments | Leave a comment
---
| Tweet |
|
We took a tropical twist for a few weeks, switched our Pandora station to island music, and mentally transported ourselves to the white beaches, sunshine, and crystal blue waters south of the border. First stop Coral Beach Village in Utila, Honduras. Coral Beach Village offers travelers everything from an unspoiled Caribbean setting to a 300+ acre resort where visitors can simply stay for a vacation, or look into property ownership and become a more full time resident.
Coral Beach Village came to Avid Design looking for a website to showcase the lifestyle, community, amenities, and their green by design island properties! Coral Beach Village's new content manageable website features email collection for future marketing efforts, responsive design for the optimal user experience across desktop resolutions, tablets and phones, plus the integration of iHotelier's booking engine to seamlessly interface the online reservation process with the resort's POS.
If you're looking for that...read more
0 comments | Leave a comment
---
We hired Avid to reboot our brand for a new product launch. We wanted an iconic logo wrapped in bold new colors that would give us a more modern look. With some basic concepts, Avid developed an... read more