[blog·ging] –verb
the art of rambling for the whole internet to see
Blogs from January 2020
| Tweet |
|
Are you picking up what we're putting down? Like any other industry, our work comes with its own special language. Everything we say regarding your project makes sense to us, but if you aren't familiar with the jargon all you'll hear is the BUZZ BUZZ BUZZ of buzzwords. No fun, right? That's where this nifty glossary swoops in to save the day. It's not comprehensive, but we'll continue to add to the list any time we realize we're using terminology that wasn't on any of our grade school exams.
Reach: The amount of people who actually saw your content (unique a.k.a. one-time views)
Impressions: The number of times your content was displayed, no matter whether or not a user interacted with it (total number of views, including those who saw your content more than once)
Engagement (Social Media): A reaction, comment or share of your social media content
eCommerce: Sales that occur digitally
Out of Home advertising (OOH): Advertising that reaches people when they are on the go EX:...read more
0 comments | Leave a comment
---
Blogs from January 2019
| Tweet |
|
Fully Integrated Marketing Campaigns are the absolute best way to ensure brand awareness and consistency across all the different marketing channels. Because of this, Adrift Dinosaur hired Avid Design to create a cohesive campaign. We started by identifying design elements that appealed to the Adrift Team, which lead to a new logo. From there, we used the colors and elements in the logo to create the website, company apparel, signage, as well as print and digital advertisements. These same elements were also used to direct social media posts and give a fresh look to the email marketing efforts to create content that people want to read.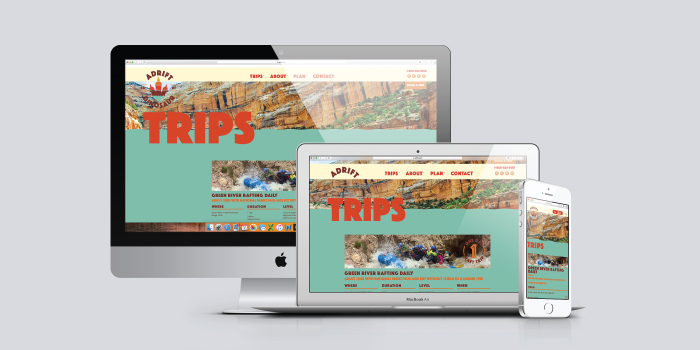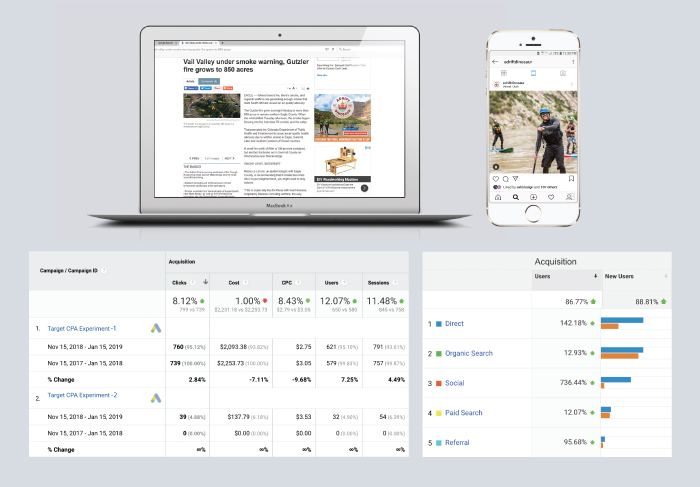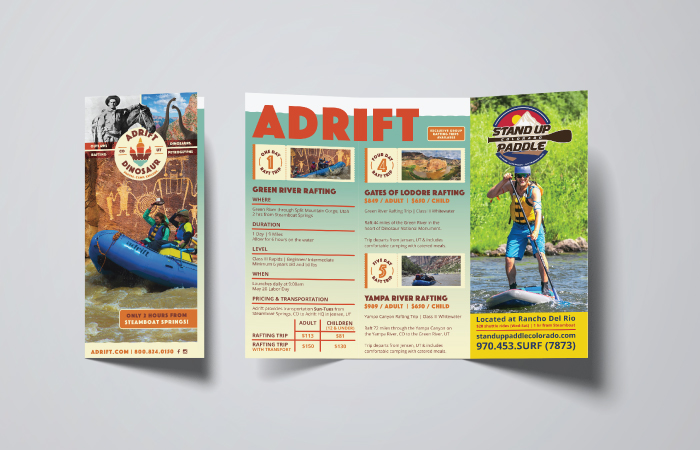 0 comments | Leave a comment
---
| Tweet |
|
Located right at the base of Vail in Lionshead Village, Garfinkel's has been a favorite for locals and visitors for the past 25 years. To pay tribute to reaching the milestone, the Avid Team developed the Garf's 25 campaign- a yearlong marketing approach that involved the entire Vail Valley.
The celebration started with a 25th Anniversary Party on November 27th- the exact birthday of Garf's. The lead up to the party involved digital advertisements, social media posts, and advertisements in the Vail Daily. We also redesigned the classic Garf's Moose to reflect the culture of 1993, such as the moose dressed up as Kurt Cobain. Guests were also enticed to celebrate by offering 25-cent Coors and the original menu prices from 1993.
The night of the party kicked off the official Garf's 25 competition- "25 Likes for 25 Cents for 25 Years". The rules are simple- post a photo taken at Garf's or while repping official Garf's merchandise, tag Garf's in the photo, and receive 25 likes on the...read more
0 comments | Leave a comment
---
| Tweet |
|
What builds the foundation of a strong marketing campaign? Where do great ideas come from?
We'll give you a hint: it starts with 'T' and ends with 'eam Love'.
Still don't know?
Alright, we'll tell you… Team Love! That's right- all great ideas are able to grow into something when there is a team working hard to ensure success.
Here at Avid, we are not just coworkers- we are a family. We don't believe in cubicles- we prefer having our desks close enough to high-five each other in a moments notice. We don't believe in taking ourselves too seriously- at least one groan-worthy joke is told every day. We don't think that the best ideas always occur at a desk- sometimes, you need to sprawl on the couch to get the thinking-juices flowing. We do believe in supporting ideas, always looking to improve, and keeping office culture fun while getting sh*t done. But most importantly, we like to hear Kristen say 'water'.
Here's what our team members have been up to:
Brad- Brad continues to wear...read more
0 comments | Leave a comment
---
| Tweet |
|
It's a sign- that your business is located where it is! As another important aspect of branding, the sign is what tells customers where to find your business. Here are some of our favorite recent signs.

-CO. Ranch House: Located in Glenwood Springs, CO. Ranch House replaced a Glenwood icon- Peppinos. To pay homage to the old classic while also defining the new restaurant with current branding, CO. Ranch House wanted to feature a bit of the old sign (chef in the circle) while also using the wood-feel of the new restaurant. It was an honor to work on a sign that can clearly be seen from the main thoroughfare in Glenwood Springs.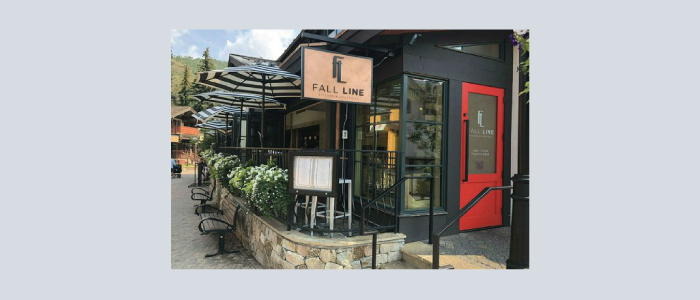 -Fall Line Kitchen & Cocktails: Fall Line originally wanted to create a logo that pulled elements from Slim Aarons photography aesthetic of bright and beachy old-school après skiing vibes. However, the project evolved as the owners wanted to reflect their high-end food in the signage. This eventually led to the initials 'FL' in a sleek, narrow font that...read more
0 comments | Leave a comment
---
Thank you so much for your work. I can't even count the number of compliments I've gotten on the site. - Michael F. Gallagher // Breckenridge CO