[blog·ging] –verb
the art of rambling for the whole internet to see
Blogs from January 2017
| Tweet |
|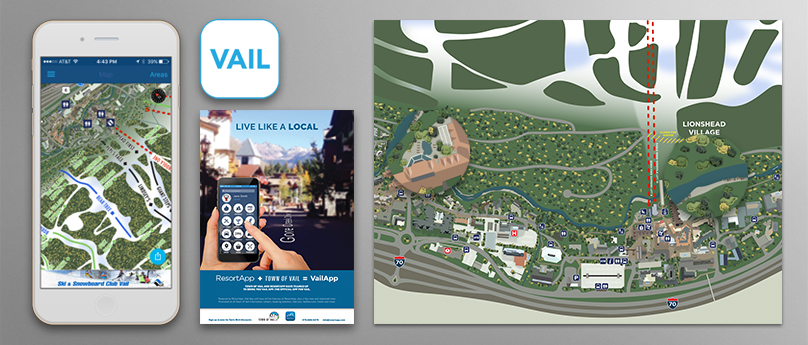 ResortApp contracted Avid to design their icon, print ads, and create an illustrated map of Vail for their app! Using the map of the town and Vail Mountain, ResortApp teamed up with the Town of Vail and Vail Resorts to create the official new Town of Vail Vacation Guide App!
Kristen Le, Avid's Creative Director, illustrated over a Google Maps satellite image to give a more unique, custom-built presence to the map. A lot of details went into this intricate map, down to individual trees and river rocks. Since this map was created as a custom vector image, it offers more insight into the Town of Vail because it has different crowd-sourced attractions and local features that wouldn't normally be visible on a general map. This map is also being adapted for the Vail Guide and will be used for Town of Vail signage in 2018.
For designing the app logo, we used the blue of the Vail logo to remain true to the town's iconography. Kristen has experience designing app logos, though this was her...read more
0 comments | Leave a comment
---
| Tweet |
|
One exciting thing that happened at Avid HQ in 2016 was we welcomed two new team members! Kristen Le was with Avid previously as a designer and has come back as our Creative Director. Kristen's initial passion for design was centered in typography (talk to her about fonts), but her foray into event and project management for businesses has led to some unique skills she's brought back to Avid—for her work in event marketing and management, Kristen won an award for Most Creative Marketing Initiative. In her spare time Kristen enjoys working with Radio Free Minturn in programming and PSA's as well as on-air announcing.
Also new to Avid (and Colorado!) as our Marketing Director is Leah Williams, a writer and digital media strategist from Texas. Her background is in professional film production, and her writing has appeared in Oprah Magazine, The Atlantic, and she makes her comic book debut with Marvel Comics in March 2017. Leah's background in digital video and Kristen's background in...read more
0 comments | Leave a comment
---
Blogs from July 2016
| Tweet |
|
Looking for a job in a fun, creative, fast-paced office? Lucky you, Avid is expanding! We're fortunate to have enough incoming work that we need to grow and add more team members, so right now we're looking for a Graphic Designer to join our team!
---
GRAPHIC DESIGNER/PROJECT MANAGER:
Responsibilities include:
Web, print and media design
Provide project management services and maintain client relations
Qualifications:
Must work on site
Have a strong understanding of Adobe Creative Suite with a focus on InDesign, Photoshop and Illustrator
Have a working knowledge of social media channels
Have the knowledge to successfully manage the creative and production process
Have excellent written and oral communication skills
Have a fundamental understanding and working knowledge of HTML, CSS and javascript to aid in component design
Ideal candidate should be:
Not a stranger to creative solutions or thinking outside the box
Organized, self-sufficient, and...read more
0 comments | Leave a comment
---
Blogs from June 2016
| Tweet |
|
In one our biggest website transformations ever, Avid Design and our client, National School of Dental Assisting, proudly unveiled NSDA's new and improved Learning Management System (LMS) recently, complete with responsive design, e-commerce, email collection and the integration of a third party blog software.
The National School of Dental Assisting, owned and operated since 2001 by Dr. G. Peter Najim, DDS and Zoe C. Najim, MST, offers education programs that enable students to quickly and affordably obtain the skills and professional certification necessary to secure a position as a dental assistant. NSDA offers a hands-on clinical Dental Assisting Program, as well as an online Dental Front Office course, and has campuses located in: Broomfield, Denver, Fort Collins, Grand Junction and Pueblo, CO, as well as in Carson City and Reno, NV, North Dallas and Houston, TX, Puyallup and Vancouver, WA, and Stockton, CA. Their aim is to provide effective, affordable training that is...read more
0 comments | Leave a comment
---
Blogs from May 2016
| Tweet |
|
This week, Avid Design launched a brand new website for our long-time client, Vail Integrative Medical Group.
Vail Integrative Medical Group, is a nationally renowned clinic specializing in a comprehensive 'team' approach to sports and spinal injuries. Their doctors, therapists and staff are recognized specialists in their fields, and have extensive knowledge and experience. The VIMG team are considered pioneers and leaders, by combining the best from individual disciplines to work collaboratively in the treatment and rehabilitation of injuries, while promoting prevention and wellness.
In its third iteration, the content manageable VailHealth.com website has a fresh new look, complete with responsive design that enables patients to have the best user experience possible, regardless of the device they use to view the site on. Also new to VailHealth.com is an integrated WordPress blog for Dr. Joel and his team at VIMG to share helpful information for their patients, as well as email...read more
0 comments | Leave a comment
---
We hired Avid to reboot our brand for a new product launch. We wanted an iconic logo wrapped in bold new colors that would give us a more modern look. With some basic concepts, Avid developed an... read more