[blog·ging] –verb
the art of rambling for the whole internet to see
Blogs from January 2019
| Tweet |
|
Even in the digital age, print still plays an important role in the marketing universe! While having a strong web presence is important, it is also necessary for printed materials to mirror your branding to increase brand recognition on every touch point.
-bōl Menus: bōl is a luxury bowling alley located in the heart of the Vail Village. However, the menus in place at the restaurant did not match the look and feel of the business. Because of this, bōl tasked Avid with creating new menus that were easier to read, featured a sleek design that mirrored the interior of the bowling alley, and would be appealing to their high-end clientele with the use of subtle bowling motifs.
-Vail Renovations: Vail Renovations is a construction company that specializes in renovating spaces, with a talent for woodwork. To tie these elements together, the design pulled inspiration from blueprints and natural wood texture.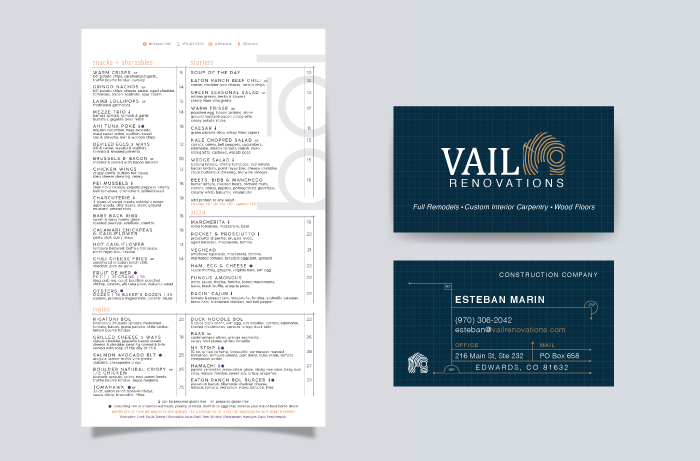 -DataPath's DKET: Avid loves making non-sexy satellite...read more
0 comments | Leave a comment
---
| Tweet |
|
Websites are often the first touch point between you and your clients. Therefore, it is important to have a clean and cohesive design that sends a clear message while giving the users the best experience possible. Here are some of the websites that we designed over the past few months.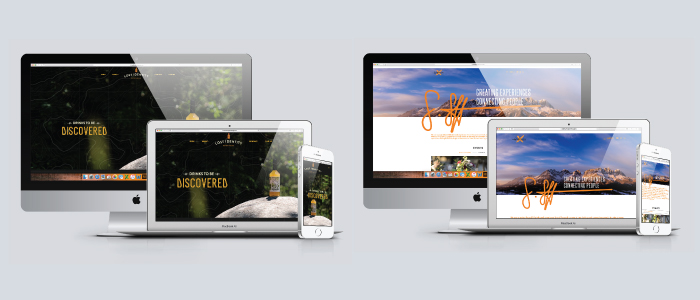 -Hofmann Experience: Sophie Hofmann- real estate tycoon, incredible businesswoman, and important fixture in the Vail Valley. Sophie approached us a few months ago to design a website for her new company- the Hofmann Experience. Hx is a project-based lifestyle brand that looks to connect people in fun and exciting ways. Through meet-and-greet events such as Kitzbühel or location-specific Monopoly sets all the way to weddings, Hx has a lot to offer. The result? A website that displays information on all of the services offered in an easily digestible manner.
-Lost Identity Beverage Co: To tie the...read more
0 comments | Leave a comment
---
| Tweet |
|
Logos set the theme for your business. It is an important design element that includes all aspects of your branding in one place- making a strong logo extremely important! Check out some of the most recent logos we created, including responsive designs.
-Budd Dairy Co Food Hall: Budd Dairy Co Food Hall in Columbus, OH, is a dining concept that allows guests to choose from different restaurants all located in the same building. Named after the historic Budd Dairy Company building in which the food hall is located, the owners wanted to create a sign that paid homage to the mid-century significance of the location.
-Riverwalk Theater: After changing ownership, the Riverwalk Theater wanted a new logo to reflect their tagline- "Digital Movies, Analog Vibe". To give the logo a retro vibe, our designers pulled inspiration from old soda pop packaging, which developed into a design that mirrored elements of pop-art. Responsive logo design options were also provided within the brand...read more
0 comments | Leave a comment
---
Blogs from October 2017
| Tweet |
|
"The journey of a thousand miles begins with one step." - Lao Tzu
For a lot of traditional marketers jumping into the world of social marketing is intimidating. Not because it is rocket science, but because there is NO barrier to entry. Social marketing is analytical and still numbers-driven, but it is more about storytelling than anything else. You are influencing people to buy a product or service, but also enlightening them to your authentic and interesting story. Customers are buying in to a lifestyle and eventually being sold on other aspects of the culture you represent. While hundreds or thousands of other businesses are selling almost identical stories.
A Day In the Life of Your Customer
Let's talk about the social funnel for a second. Your end goal is to make a sale, whether it's an online sale or getting someone into a restaurant for dinner. You are working to entice a prospective customer through a series of social posts to take the next step in the buyer's journey....read more
0 comments | Leave a comment
---
Blogs from January 2017
| Tweet |
|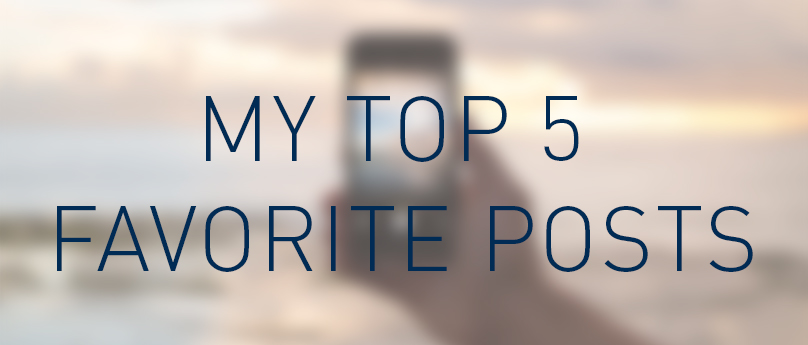 As Avid's Director of Marketing, I get to be creative with my work. I have a lot of fun managing social media for clients, and sometimes I go back and revisit posts just because I love the work we do, a long-standing tradition with Avid Design. Below is a list of my top five favorite social media posts!
5. "Hug A Vegetarian Day" post for Revolution. Noteworthy since Revolution is a rotisserie steakhouse. I love doing the marketing for this particular client because they have an edgier, cheeky brand voice which allows me to do posts like these. Plus, I'm vegetarian so I'm allowed to make fun of myself. (Worth noting my favorite dish at Revolution is the vegan torta!)
4. "Friday the 13th" post for Hooked restaurant. I collaborated with Coni Terrado, Avid's Art Director, for this post and the terrified sushi she illustrated cracks me up every time. I have gone back to look at this post at least twice since it was posted. This image was such a...read more
0 comments | Leave a comment
---
We have a new client in Vail who chose to work with us solely on our website! Way to go, Avid! - Elizabeth Reed, Scott S. Turnipseed AIA // Eagle CO