[blog·ging] –verb
the art of rambling for the whole internet to see
Blogs in categories New Projects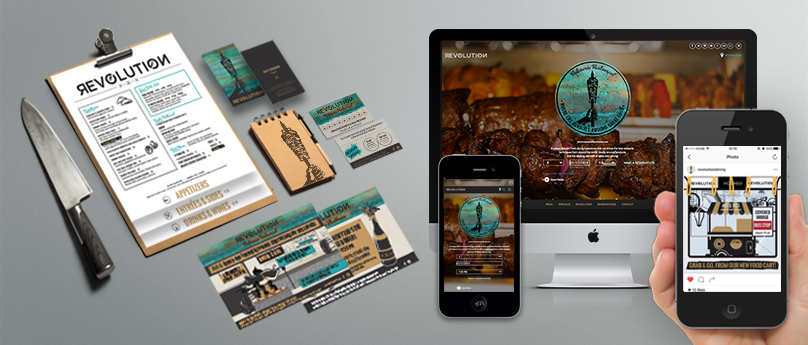 What is digital marketing? How can your business utilize digital marketing? To put it simply, digital marketing is a term that encompasses marketing products or services via any and all of the following: websites, social media, developing technologies, newsletters, online ad campaigns, mobile displays, blogging, SEO, or other forms of digital/online media. Digital marketing can be used interchangeably with "online marketing," which all goes to say there are infinite tactics to be used for your business, and not all of them will be perfectly suited to your needs.
Online marketing differs from traditional marketing in that it is less about traditional forms of advertising—think print ads—and more about developing an online presence and making your brand accessible and recognizable to audiences. Because the internet is such a vast, open highway, it's more effective for businesses to plant flags relevant to the interests of their desired customer/client versus shady spamming tactics....read more
0 comments | Leave a comment
---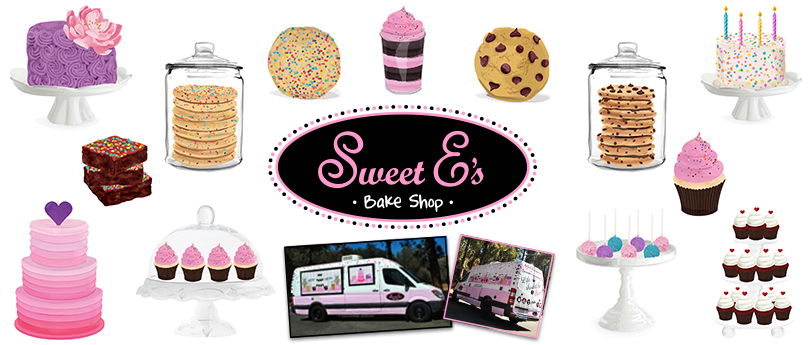 Sweet E's Bake Shop, located in LA, initially reached out to Avid to assume management of their eCommerce site. They needed a company well-versed in the eCommerce platform Magento, and worked with Avid on both management and upgrades to refine and enhance site functionality. Eventually, they asked Avid if we knew of any illustrators to recommend. Do we ever! We recommended our own Art Director Coni Terrado. Coni provided a selection of past illustrations, as well as some specifically-designed samples of what they were looking to achieve. Sweet E's Bake Shop was satisfied with the watercolor-style illustrations they'd envisioned, and began working with us for their varying visual collateral needs.
The illustrations became pieces of a vinyl wrap for the official Sweet E's dessert truck, which travels around like a food truck or can be rented! The illustrations are watercolor-inspired, but Coni and Kristen made sure to get the colors right on these custom illustrations so that the...read more
0 comments | Leave a comment
---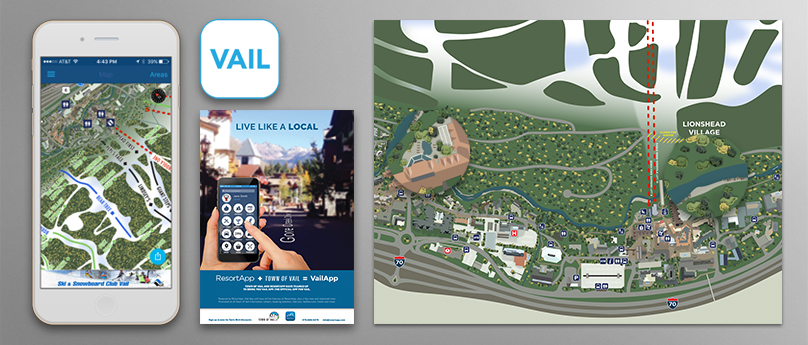 ResortApp contracted Avid to design their icon, print ads, and create an illustrated map of Vail for their app! Using the map of the town and Vail Mountain, ResortApp teamed up with the Town of Vail and Vail Resorts to create the official new Town of Vail Vacation Guide App!
Kristen Le, Avid's Creative Director, illustrated over a Google Maps satellite image to give a more unique, custom-built presence to the map. A lot of details went into this intricate map, down to individual trees and river rocks. Since this map was created as a custom vector image, it offers more insight into the Town of Vail because it has different crowd-sourced attractions and local features that wouldn't normally be visible on a general map. This map is also being adapted for the Vail Guide and will be used for Town of Vail signage in 2018.
For designing the app logo, we used the blue of the Vail logo to remain true to the town's iconography. Kristen has experience designing app logos, though this was her...read more
0 comments | Leave a comment
---
In one our biggest website transformations ever, Avid Design and our client, National School of Dental Assisting, proudly unveiled NSDA's new and improved Learning Management System (LMS) recently, complete with responsive design, e-commerce, email collection and the integration of a third party blog software.
The National School of Dental Assisting, owned and operated since 2001 by Dr. G. Peter Najim, DDS and Zoe C. Najim, MST, offers education programs that enable students to quickly and affordably obtain the skills and professional certification necessary to secure a position as a dental assistant. NSDA offers a hands-on clinical Dental Assisting Program, as well as an online Dental Front Office course, and has campuses located in: Broomfield, Denver, Fort Collins, Grand Junction and Pueblo, CO, as well as in Carson City and Reno, NV, North Dallas and Houston, TX, Puyallup and Vancouver, WA, and Stockton, CA. Their aim is to provide effective, affordable training that is...read more
0 comments | Leave a comment
---
HealthWide Solutions is a revenue cycle consulting and services firm for both Acute and Ambulatory Care organizations. Having served over 25-years in the revenue cycle consulting industry, HealthWide has assisted organizations across the country by consulting on areas of financial leakage, providing change management, redesigning access scheduling & intake areas as well as performing functions in the trenches such as coding, auditing, RAC appeals and denial management.
Avid Design was contracted by HealthWide Solutions to build brand awareness through an integrated marketing approach that included logo and identity redesign, print collateral, a content manageable website, and digital presentation.
0 comments | Leave a comment
---
We hired Avid to reboot our brand for a new product launch. We wanted an iconic logo wrapped in bold new colors that would give us a more modern look. With some basic concepts, Avid developed an... read more