Blogs tagged with: Branding
| Tweet |
|
It's a sign- that your business is located where it is! As another important aspect of branding, the sign is what tells customers where to find your business. Here are some of our favorite recent signs.

-CO. Ranch House: Located in Glenwood Springs, CO. Ranch House replaced a Glenwood icon- Peppinos. To pay homage to the old classic while also defining the new restaurant with current branding, CO. Ranch House wanted to feature a bit of the old sign (chef in the circle) while also using the wood-feel of the new restaurant. It was an honor to work on a sign that can clearly be seen from the main thoroughfare in Glenwood Springs.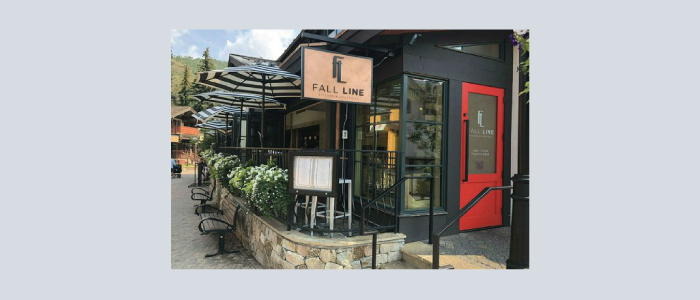 -Fall Line Kitchen & Cocktails: Fall Line originally wanted to create a logo that pulled elements from Slim Aarons photography aesthetic of bright and beachy old-school après skiing vibes. However, the project evolved as the owners wanted to reflect their high-end food in the signage. This eventually led to the initials 'FL' in a sleek, narrow font that...
0 comments | Leave a comment
---
| Tweet |
|
Packaging is yet another important aspect of branding. For products in stores, it is important to have packaging that stands out on the shelves. Here are some of the packaging projects we have had in the past few months.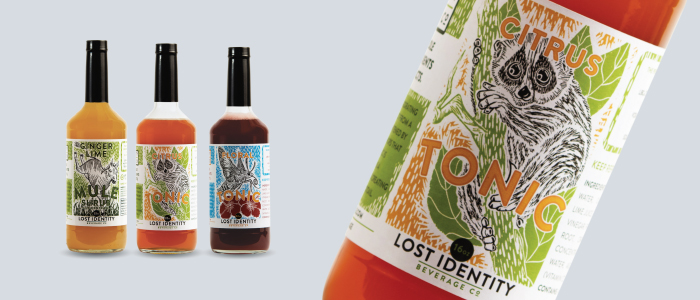 -Lost Identity Beverage Co: Featuring relief blockprint artwork by Ethan Harrison, the bottle labels for Lost Identity Beverage Company needed to feature bright colors in order to stand out amongst other tonics and shrubs on the shelf. The company also wanted to include recipe guides on the bottles so that consumers knew exactly how to make the perfect drink.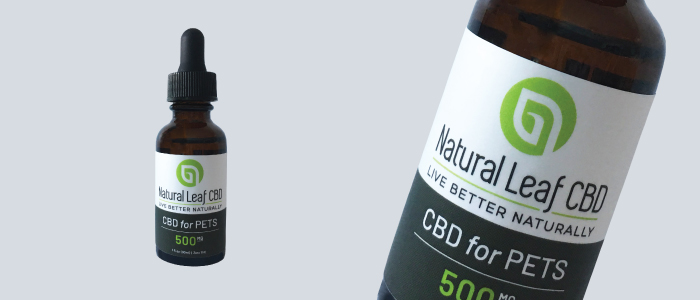 -Natural Leaf CBD: Cannabinoid (CBD) has been all over the news recently due to updated FDA status and potential health benefits. Since then, a number of CBD companies have popped up across the nation. Natural Leaf CBD was worried that their product might blend in with the other options available. So, Avid was tasked with creating a more visually engaging label design to help their products stand out from...
0 comments | Leave a comment
---
| Tweet |
|
Sometimes after a company has been around the block for a while, the messages they originally wanted to send to the public no longer match the direction of the business. As companies grow, morph, mature, and change, the messaging remains the same. Rebranding is a great option to make a company relevant once again. Every year, we have many clients approach us looking for ways to rebrand their business. Here are some of our most recent projects.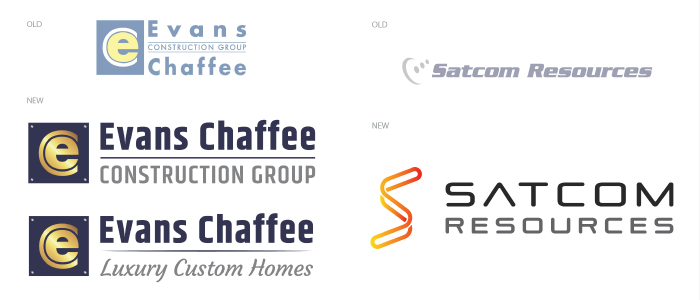 -Evans Chaffee: Since 1998, Evans Chaffee Construction Group has been renowned for their stellar commercial spaces. However, the group also specializes in luxury custom home construction. Because of this, Evans Chaffee needed to rebrand their company to be recognized as the premier commercial and luxury construction company in the Vail Valley. This was accomplished by designing complementary new logos that represent the core competencies of the company.
-Satcom Resources: When you think of satellite communications, what are some words that...
0 comments | Leave a comment
---
| Tweet |
|
Even in the digital age, print still plays an important role in the marketing universe! While having a strong web presence is important, it is also necessary for printed materials to mirror your branding to increase brand recognition on every touch point.
-bōl Menus: bōl is a luxury bowling alley located in the heart of the Vail Village. However, the menus in place at the restaurant did not match the look and feel of the business. Because of this, bōl tasked Avid with creating new menus that were easier to read, featured a sleek design that mirrored the interior of the bowling alley, and would be appealing to their high-end clientele with the use of subtle bowling motifs.
-Vail Renovations: Vail Renovations is a construction company that specializes in renovating spaces, with a talent for woodwork. To tie these elements together, the design pulled inspiration from blueprints and natural wood texture.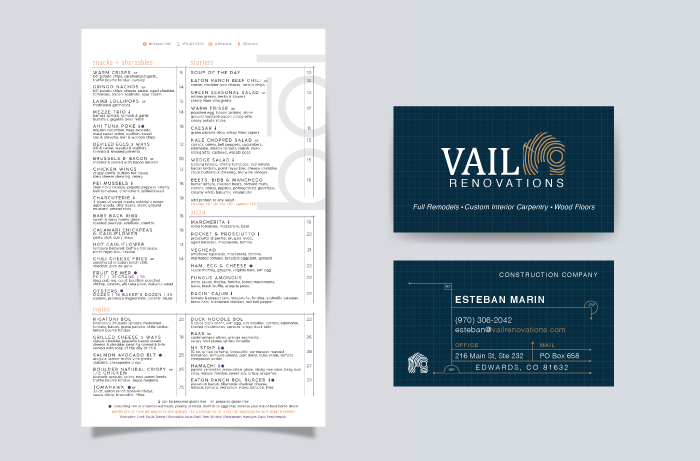 -DataPath's DKET: Avid loves making non-sexy satellite...
0 comments | Leave a comment
---
| Tweet |
|
Logos set the theme for your business. It is an important design element that includes all aspects of your branding in one place- making a strong logo extremely important! Check out some of the most recent logos we created, including responsive designs.
-Budd Dairy Co Food Hall: Budd Dairy Co Food Hall in Columbus, OH, is a dining concept that allows guests to choose from different restaurants all located in the same building. Named after the historic Budd Dairy Company building in which the food hall is located, the owners wanted to create a sign that paid homage to the mid-century significance of the location.
-Riverwalk Theater: After changing ownership, the Riverwalk Theater wanted a new logo to reflect their tagline- "Digital Movies, Analog Vibe". To give the logo a retro vibe, our designers pulled inspiration from old soda pop packaging, which developed into a design that mirrored elements of pop-art. Responsive logo design options were also provided within the brand...
0 comments | Leave a comment
---
| Tweet |
|
Hooked has successfully proven that passion for great food, along with hard work and logistics allow their guests to experience the freshest seafood in the Vail Valley.
To help spread this good word, Avid Design was hired to implement an integrated marketing approach with a clear focus on Hooked's beliefs, business practices, and their daily chalk board of culinary delights. In sync with their one year anniversary plans, Avid launched their new content manageable website design with OpenTable reservation integration and MailChimp email collection, as well as a complementary print campaign.
Who said paper represents a 1 year anniversary? We're not sure to be honest, but we can tell you that it wasn't our friends over at Hooked as they opted to celebrate with a 1lb Alba Truffle! This star of the party can be enjoyed as part of their 1 Year Anniversary & Holiday Tasting Menu (starts 12.21.13), so we'd highly recommend you reserve your table now at hookedbc.com so you too can fall...
0 comments | Leave a comment
---
| Tweet |
|
HealthWide Solutions is a revenue cycle consulting and services firm for both Acute and Ambulatory Care organizations. Having served over 25-years in the revenue cycle consulting industry, HealthWide has assisted organizations across the country by consulting on areas of financial leakage, providing change management, redesigning access scheduling & intake areas as well as performing functions in the trenches such as coding, auditing, RAC appeals and denial management.
Avid Design was contracted by HealthWide Solutions to build brand awareness through an integrated marketing approach that included logo and identity redesign, print collateral, a content manageable website, and digital presentation.
0 comments | Leave a comment
---
| Tweet |
|
Reed Design Group, LLC is a comprehensive interior design firm that understands the level of collaboration that must occur between architect, interior designer, and contractor in order for a job to proceed smoothly. RDG is well-versed in new residential construction, as well as residential and office remodeling projects. Regardless of the job type, RDG always strives to incorporate a client's personality and lifestyle into their project, because it is their belief that a successful project must be a direct reflection of it's owner.
At the time of Elisabeth Reed's departure from the design/build team at Scott S Turnipseed, AIA, she contracted Avid Design to build brand awareness for RDG with a focus on her firm's approach to timeless, personal interiors. The integrated marketing strategy included logo design, identity and a website that features a content manageable portfolio to showcase their projects, as well as establish their online presence in the world of interior design.
...
2 comments | Leave a comment
---
| Tweet |
|
Avid Design welcomes the Vail Living Well Summit coming this September 19th-21st, 2013, featuring one of the greatest athletes of the 20th century, keynote speaker Joe Montana.

Vail Living Well is a two & a half day summit in Vail, Colorado that is designed to help people live longer, better and influence positive change in their well-being and the world around them. With more than 20 experiential sessions each day, this summit will leave you inspired, engaged and will elevate you to a new level.
Provided with a logo, Avid Design was tasked with establishing their brand which included identity elements and a custom built, content manageable website with ties to an online registration component.
Find out more about this great event or register online now by visiting: www.vaillivingwell.org
0 comments | Leave a comment
---
We have a new client in Vail who chose to work with us solely on our website! Way to go, Avid! - Elizabeth Reed, Scott S. Turnipseed AIA // Eagle CO