Blogs tagged with: Content Manageable Website
| Tweet |
|
Websites are often the first touch point between you and your clients. Therefore, it is important to have a clean and cohesive design that sends a clear message while giving the users the best experience possible. Here are some of the websites that we designed over the past few months.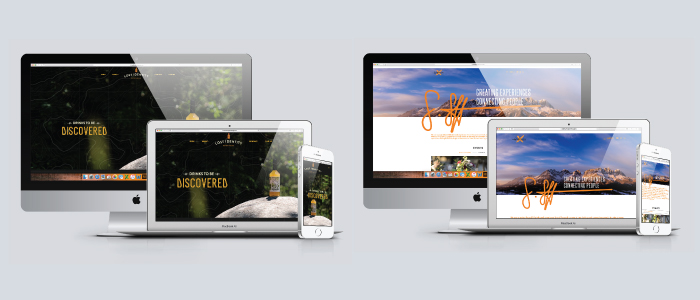 -Hofmann Experience: Sophie Hofmann- real estate tycoon, incredible businesswoman, and important fixture in the Vail Valley. Sophie approached us a few months ago to design a website for her new company- the Hofmann Experience. Hx is a project-based lifestyle brand that looks to connect people in fun and exciting ways. Through meet-and-greet events such as Kitzbühel or location-specific Monopoly sets all the way to weddings, Hx has a lot to offer. The result? A website that displays information on all of the services offered in an easily digestible manner.
-Lost Identity Beverage Co: To tie the...
0 comments | Leave a comment
---
| Tweet |
|
This week, Avid Design launched a brand new website for our long-time client, Vail Integrative Medical Group.
Vail Integrative Medical Group, is a nationally renowned clinic specializing in a comprehensive 'team' approach to sports and spinal injuries. Their doctors, therapists and staff are recognized specialists in their fields, and have extensive knowledge and experience. The VIMG team are considered pioneers and leaders, by combining the best from individual disciplines to work collaboratively in the treatment and rehabilitation of injuries, while promoting prevention and wellness.
In its third iteration, the content manageable VailHealth.com website has a fresh new look, complete with responsive design that enables patients to have the best user experience possible, regardless of the device they use to view the site on. Also new to VailHealth.com is an integrated WordPress blog for Dr. Joel and his team at VIMG to share helpful information for their patients, as well as email...
0 comments | Leave a comment
---
| Tweet |
|
In visual art, negative space plays an essential role in guiding the viewer's attention to the subject. In user interface design--or in this case, website design--white space is the designer's equivalent to negative space, and it is a key element of successful web design.
Have you ever been to a website with so much going on that you have trouble focusing on any one feature on the page? Take a look at the World's Worst Website Ever for an extreme example of the visual disaster that ensues when one ignores the importance of white space on a web page.
According to this study by Fast Company, a business media brand with knack for innovation in technology and design, white space has been proven to increase reader comprehension by up to 20%. Its power comes from the limits of human attention and memory. That's not to say users are incapable of focusing on multiple items on a page at once, but too many items on a page will make it more difficult for users to complete the task set...
0 comments | Leave a comment
---
| Tweet |
|
Garfinkel's (or Garf's, as it is locally known) has been a cornerstone in Lionshead for both tourists and locals alike since 1993. Their sunny deck provides the best aprés ski, sun catching and overall late spring and summer experience. Over the years, some things have changed but the feeling of Garfinkel's as a classic ski town sports bar/grill remains the same. Seasons pass by, memories are created, good times are had, and lifelong friends are made.
In 2008, Garfinkel's came to us to design and build a website that would help them tell the Garfinkel's story. Recently, they asked us to spice up their site with an update that would make the user experience more seamless. Using a content-manageable, responsive design, we made their entire website mobile friendly (they will now survive Mobilegeddon). Now, interested patrons can view their menus and special events calendar on any device or purchase a Garfinkel's Gift Card through ecommerce.
The walls inside of Garf's tell the...
0 comments | Leave a comment
---
| Tweet |
|
Gore Range Partners is an independent investment banking advisory firm with proven capital raising, restructuring and execution expertise across global capital markets. This middle market investment banking advisory firm is formed around a broad base of risk management, investment banking, and capital markets experiences to provide capital raising and structuring advisory services to senior management and board of directors.
For their project, Avid Design was entrusted to create a new identity kit to re-enforce the Gore Range Partners' brand, as well as a mobile friendly website to ensure the optimal user experience across all devices.
If you, or your firm are looking for objective structuring and business risk decision making experience, then be sure to reach out to our friends at Gore Range Partners.
0 comments | Leave a comment
---
| Tweet |
|
We took a tropical twist for a few weeks, switched our Pandora station to island music, and mentally transported ourselves to the white beaches, sunshine, and crystal blue waters south of the border. First stop Coral Beach Village in Utila, Honduras. Coral Beach Village offers travelers everything from an unspoiled Caribbean setting to a 300+ acre resort where visitors can simply stay for a vacation, or look into property ownership and become a more full time resident.
Coral Beach Village came to Avid Design looking for a website to showcase the lifestyle, community, amenities, and their green by design island properties! Coral Beach Village's new content manageable website features email collection for future marketing efforts, responsive design for the optimal user experience across desktop resolutions, tablets and phones, plus the integration of iHotelier's booking engine to seamlessly interface the online reservation process with the resort's POS.
If you're looking for that...
0 comments | Leave a comment
---
| Tweet |
|
Adventure-seeker and long-time Vail local Joey Saputo traded out the boards below his feet when he made the move from the Rockies to Big Corn Island.
Looking to start a Stand Up Paddle board company in the warm tropical waters off the coast of Nicaragua, Avid Design was contracted to help introduce and market his new company, SUP Corn Islands. Avid Design created an array of marketing assets for SUP Corn Islands starting with a fun logo that speaks to the island lifestyle, print collateral to establish the company's brand, and a new website complete with responsive design, email collection for future marketing efforts, and a Captain's Log for trip dates and reservations.
Book a trip down to see Joey and the crew and and try your hand at Stand Up Paddle boarding in his Caribbean tropical paradise. Not convinced yet? Then check out the photos and the good times to be had by visiting www.standuppaddlecornislands.com.
0 comments | Leave a comment
---
| Tweet |
|
We all love Google, but you might be on their radar! Webmasters will be sent notifications from Google if their website isn't mobile friendly (see image below for example that we just received for one of our clients). The reason this is important to webmasters, online businesses and ultimately you, is because your page rank in Google's search may drop if your website isn't mobile-friendly.
Take the hint from Google, because based on these warnings there's a good chance that if your page isn't mobile-friendly, they just might not share your site with the billions and billions of daily users. Google claims they have been experimenting with a mobile ranking algorithm since November, which eludes to mobile friendly / responsive design being a new key factor when it comes to your website's Search Engine Optimization (SEO).
Is your site mobile friendly yet? If not, reach out to us so we can discuss some options to help get you back into Google's good graces! ...
0 comments | Leave a comment
---
| Tweet |
|
Pazzo's Pizzeria came to Avid Design to redevelop their website. With 3 great locations across the Valley, Avid was tasked with creating one website that would encompass the needs all of their locations.
As part of the project, the Pazzo's website included responsive design so customers can easily look up everything they need to know while on the go, and in the most user friendly way possible from mobile devices such as phones and tablets. As a final piece of the proverbial pie for this client, a weather module was added so you can check in on the daily forecast at the same time you're deciding on your order.
Craving Italian food or pizza in Vail? Then check out the new Pazzo's website and go grab a slice or 2!
0 comments | Leave a comment
---
| Tweet |
|
bōl, located in the heart of Vail Village, is know for their world class food and of course, their 10 boutique bowling lanes. Looking to do a facelift on the original website that we created 5 years ago, Avid and the client discussed a new direction for v2 of their online presence.
Deciding on a single and multiple page web design combo, custom layouts and programming were used to create a responsive web design that provides an optimal user experience across desktop screens both large and small, as well as phones and tablets. This round of development also included the integration of an email collection widget, as well as online reservation bookings through OpenTable.
Looking to grab a bite to eat and get a turkey for dessert? Then head over to bōl to get this party started!
0 comments | Leave a comment
---
---
Page {e2c518d61874f2d4a14bbfb9087a7c2dcurrent_page} of {e2c518d61874f2d4a14bbfb9087a7c2dtotal_pages} pages {e2c518d61874f2d4a14bbfb9087a7c2dpagination_links}
I am writing to express my professional endorsement of Avid Design. I have had the pleasure of working with Avid on many projects over the years and have found their work to be outstanding and... read more