Blogs tagged with: Poster Design
| Tweet |
|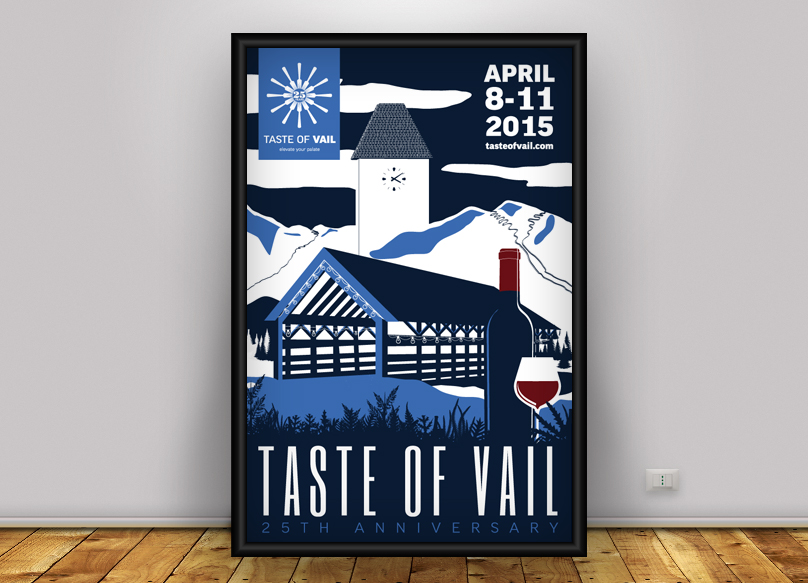 The 25th anniversary Taste of Vail is this week and we are so excited for this incredible Vail Valley event that is always a great way to ring in the end of the Vail Ski season.
The Taste of Vail honored Avid Design by asking us to create a piece of art to commemorate the 25th anniversary of the event, that would help capture the essence of the wine and food festival, as well as the beauty of Vail. The selected design, was the vision of our talented Art Director, Coni Terrado who used various digital techniques to create an abstract work of art, which depicts several iconic locations found in Vail Village and on Vail Mountain. Congratulations Coni!
Learn more about the Coni's inspiration from the recent write up found in the Vail Daily, and click here to buy your 25th anniversary Taste of Vail poster now!
0 comments | Leave a comment
---
| Tweet |
|
Just living the dream - that's our response here at Avid Design when someone asks how we are doing. We truly believe that living in Vail, CO and doing what we do is the dream. "Living the dream" is our mantra, and through that belief, we never feel we work a single day. When you're doing what we do and working with our amazing clients (who we consider to be more of the Avid family than a client), it's that easy. And yes, we know and appreciate how lucky we truly are.
The "My life is…" poster is the start of our monthly poster post. You give us so much as friends and "family", we thought we'd give back in one of our favorite ways…design. So make sure to check back regularly for a new one-of-a-kind Avid poster to download and print, use as your wallpaper or for whatever application you choose.
And as you may have noticed, we launched our new website this week and we could not be more excited. After many long days of designing, programming and refining the end product, we felt it...
1 comments | Leave a comment
---
Avid Design put together two websites for us. They were easy to work with and had wonderful ideas. We have had numerous compliments about our websites and business has picked up since they were... read more