Blogs tagged with: Vail Co
| Tweet |
|
What builds the foundation of a strong marketing campaign? Where do great ideas come from?
We'll give you a hint: it starts with 'T' and ends with 'eam Love'.
Still don't know?
Alright, we'll tell you… Team Love! That's right- all great ideas are able to grow into something when there is a team working hard to ensure success.
Here at Avid, we are not just coworkers- we are a family. We don't believe in cubicles- we prefer having our desks close enough to high-five each other in a moments notice. We don't believe in taking ourselves too seriously- at least one groan-worthy joke is told every day. We don't think that the best ideas always occur at a desk- sometimes, you need to sprawl on the couch to get the thinking-juices flowing. We do believe in supporting ideas, always looking to improve, and keeping office culture fun while getting sh*t done. But most importantly, we like to hear Kristen say 'water'.
Here's what our team members have been up to:
Brad- Brad continues to wear...
0 comments | Leave a comment
---
| Tweet |
|
This week, Avid Design launched a brand new website for our long-time client, Vail Integrative Medical Group.
Vail Integrative Medical Group, is a nationally renowned clinic specializing in a comprehensive 'team' approach to sports and spinal injuries. Their doctors, therapists and staff are recognized specialists in their fields, and have extensive knowledge and experience. The VIMG team are considered pioneers and leaders, by combining the best from individual disciplines to work collaboratively in the treatment and rehabilitation of injuries, while promoting prevention and wellness.
In its third iteration, the content manageable VailHealth.com website has a fresh new look, complete with responsive design that enables patients to have the best user experience possible, regardless of the device they use to view the site on. Also new to VailHealth.com is an integrated WordPress blog for Dr. Joel and his team at VIMG to share helpful information for their patients, as well as email...
0 comments | Leave a comment
---
| Tweet |
|
Last year, the Taste of Vail honored Avid by asking us to create a piece of art to comemorate the 25th anniversary of the event. The selected poster design was the vision of our Art Director, Coni Terrado, who used various digital techniques to create an abstract illustration depicting iconic Vail imagery, and elements of food and wine. The poster blends the nature-filled Rocky Mountain landscape with the epicurean Vail lifestyle. And, if you look closely, you can find several event-related symbols hidden by Coni within the design!
Earlier this month, the Art Directors Club of Denver (ADCD) nominated the poster for Best Illustration, and Avid made the trek to Denver to attend the ADCD 2015 Annual Award Show to celebrate! The drinks were flowing, and there was BINGO for the Creative Type to be played... Unfortunately, Brad did not wear his black Chuck Taylors with his suit jacket. All in all, it was a wonderful evening at SPACE Gallery in Denver, and we were truly honored to be...
0 comments | Leave a comment
---
| Tweet |
|
…marketing and social media fanatic, Kelly Brophy! A graduate from Villanova University, she joined the corporate world right out of the gate from college, doing digital marketing for Time, Inc. But, this fall, as the weather turned cold in smalltown CT and the skies began to threaten snow, Kelly decided she'd had a few too many grey winters out East. On a whim, she packed up her car and drove halfway across the country to the mountains, landing a job teaching skiing for Golden Peak in Vail. Once she realized that she couldn't get the ski bum "out of her system," she decided to find a job that would let her stay here in the Valley and put her degree back to work.
A lover of all things social, Kelly understands that the best way to market a brand on social media is to make it a party! Growing up a millennial, she knows how to work each platform to give users a different means of creating a lively, upbeat environment that fosters conversation between current and potential...
0 comments | Leave a comment
---
| Tweet |
|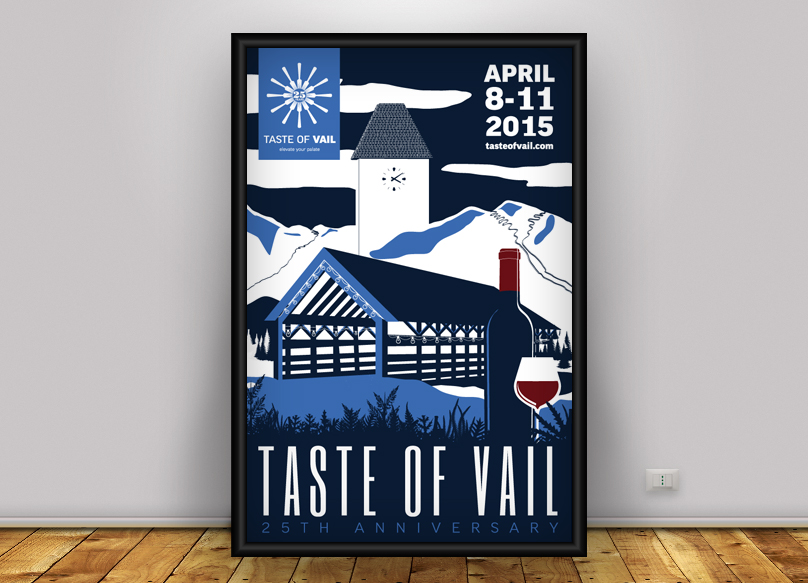 The 25th anniversary Taste of Vail is this week and we are so excited for this incredible Vail Valley event that is always a great way to ring in the end of the Vail Ski season.
The Taste of Vail honored Avid Design by asking us to create a piece of art to commemorate the 25th anniversary of the event, that would help capture the essence of the wine and food festival, as well as the beauty of Vail. The selected design, was the vision of our talented Art Director, Coni Terrado who used various digital techniques to create an abstract work of art, which depicts several iconic locations found in Vail Village and on Vail Mountain. Congratulations Coni!
Learn more about the Coni's inspiration from the recent write up found in the Vail Daily, and click here to buy your 25th anniversary Taste of Vail poster now!
0 comments | Leave a comment
---
| Tweet |
|
Gore Range Partners is an independent investment banking advisory firm with proven capital raising, restructuring and execution expertise across global capital markets. This middle market investment banking advisory firm is formed around a broad base of risk management, investment banking, and capital markets experiences to provide capital raising and structuring advisory services to senior management and board of directors.
For their project, Avid Design was entrusted to create a new identity kit to re-enforce the Gore Range Partners' brand, as well as a mobile friendly website to ensure the optimal user experience across all devices.
If you, or your firm are looking for objective structuring and business risk decision making experience, then be sure to reach out to our friends at Gore Range Partners.
0 comments | Leave a comment
---
| Tweet |
|
We took a tropical twist for a few weeks, switched our Pandora station to island music, and mentally transported ourselves to the white beaches, sunshine, and crystal blue waters south of the border. First stop Coral Beach Village in Utila, Honduras. Coral Beach Village offers travelers everything from an unspoiled Caribbean setting to a 300+ acre resort where visitors can simply stay for a vacation, or look into property ownership and become a more full time resident.
Coral Beach Village came to Avid Design looking for a website to showcase the lifestyle, community, amenities, and their green by design island properties! Coral Beach Village's new content manageable website features email collection for future marketing efforts, responsive design for the optimal user experience across desktop resolutions, tablets and phones, plus the integration of iHotelier's booking engine to seamlessly interface the online reservation process with the resort's POS.
If you're looking for that...
0 comments | Leave a comment
---
| Tweet |
|
Did someone say Latin American cuisine at affordable prices in Vail? ¡Bueno!
Step outside the box as El Sabor is not your typical Mexican restaurant in Vail, Colorado. In fact, this distinctive new restaurant across from the Eagle Bahn Gondola in Lionshead Village specializes in Latin inspired dishes from Mexico, South America, Central America, and Spain, where you can set your sights on a street taco, or something more grandiose like Red Snapper Veracruz! So when El Sabor reached out to Avid Design to help with their website needs, we were left with no choice but to result to bribery and ridiculous hostage like demands for their food and speciality tequilas in order to stay energized enough to complete the project! That's our story anyway, and we're sticking to it!
To keep their customer's satisfied, we served up a new website complete with responsive design so that customers who were out and about in Vail could easily view the El Sabor menu on any mobile device and have the best...
0 comments | Leave a comment
---
| Tweet |
|
Adventure-seeker and long-time Vail local Joey Saputo traded out the boards below his feet when he made the move from the Rockies to Big Corn Island.
Looking to start a Stand Up Paddle board company in the warm tropical waters off the coast of Nicaragua, Avid Design was contracted to help introduce and market his new company, SUP Corn Islands. Avid Design created an array of marketing assets for SUP Corn Islands starting with a fun logo that speaks to the island lifestyle, print collateral to establish the company's brand, and a new website complete with responsive design, email collection for future marketing efforts, and a Captain's Log for trip dates and reservations.
Book a trip down to see Joey and the crew and and try your hand at Stand Up Paddle boarding in his Caribbean tropical paradise. Not convinced yet? Then check out the photos and the good times to be had by visiting www.standuppaddlecornislands.com.
0 comments | Leave a comment
---
| Tweet |
|
We all love Google, but you might be on their radar! Webmasters will be sent notifications from Google if their website isn't mobile friendly (see image below for example that we just received for one of our clients). The reason this is important to webmasters, online businesses and ultimately you, is because your page rank in Google's search may drop if your website isn't mobile-friendly.
Take the hint from Google, because based on these warnings there's a good chance that if your page isn't mobile-friendly, they just might not share your site with the billions and billions of daily users. Google claims they have been experimenting with a mobile ranking algorithm since November, which eludes to mobile friendly / responsive design being a new key factor when it comes to your website's Search Engine Optimization (SEO).
Is your site mobile friendly yet? If not, reach out to us so we can discuss some options to help get you back into Google's good graces! ...
0 comments | Leave a comment
---
---
Page {e2c518d61874f2d4a14bbfb9087a7c2dcurrent_page} of {e2c518d61874f2d4a14bbfb9087a7c2dtotal_pages} pages {e2c518d61874f2d4a14bbfb9087a7c2dpagination_links}
We have a new client in Vail who chose to work with us solely on our website! Way to go, Avid! - Elizabeth Reed, Scott S. Turnipseed AIA // Eagle CO