Blogs tagged with: Website Design
| Tweet |
|
Fully Integrated Marketing Campaigns are the absolute best way to ensure brand awareness and consistency across all the different marketing channels. Because of this, Adrift Dinosaur hired Avid Design to create a cohesive campaign. We started by identifying design elements that appealed to the Adrift Team, which lead to a new logo. From there, we used the colors and elements in the logo to create the website, company apparel, signage, as well as print and digital advertisements. These same elements were also used to direct social media posts and give a fresh look to the email marketing efforts to create content that people want to read.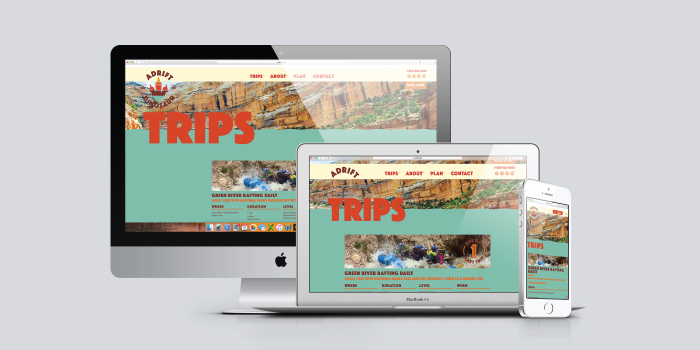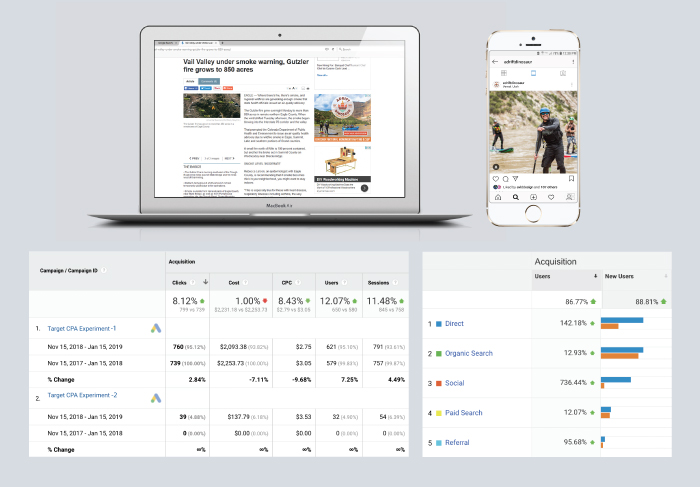 0 comments | Leave a comment
---
| Tweet |
|
What builds the foundation of a strong marketing campaign? Where do great ideas come from?
We'll give you a hint: it starts with 'T' and ends with 'eam Love'.
Still don't know?
Alright, we'll tell you… Team Love! That's right- all great ideas are able to grow into something when there is a team working hard to ensure success.
Here at Avid, we are not just coworkers- we are a family. We don't believe in cubicles- we prefer having our desks close enough to high-five each other in a moments notice. We don't believe in taking ourselves too seriously- at least one groan-worthy joke is told every day. We don't think that the best ideas always occur at a desk- sometimes, you need to sprawl on the couch to get the thinking-juices flowing. We do believe in supporting ideas, always looking to improve, and keeping office culture fun while getting sh*t done. But most importantly, we like to hear Kristen say 'water'.
Here's what our team members have been up to:
Brad- Brad continues to wear...
0 comments | Leave a comment
---
| Tweet |
|
This week, Avid Design launched a brand new website for our long-time client, Vail Integrative Medical Group.
Vail Integrative Medical Group, is a nationally renowned clinic specializing in a comprehensive 'team' approach to sports and spinal injuries. Their doctors, therapists and staff are recognized specialists in their fields, and have extensive knowledge and experience. The VIMG team are considered pioneers and leaders, by combining the best from individual disciplines to work collaboratively in the treatment and rehabilitation of injuries, while promoting prevention and wellness.
In its third iteration, the content manageable VailHealth.com website has a fresh new look, complete with responsive design that enables patients to have the best user experience possible, regardless of the device they use to view the site on. Also new to VailHealth.com is an integrated WordPress blog for Dr. Joel and his team at VIMG to share helpful information for their patients, as well as email...
0 comments | Leave a comment
---
| Tweet |
|
As web designers, our goal is always to create a smooth user experience that gets our clients' messaging across with clarity and style. To accomplish this, we tend to incorporate a variety of current web design trends that seem to be proliferating the world of web design these days.
Many of these trends are inspired by the ever-increasing use of mobile web browsing. Back in May, Google searches on mobile overtook Google searches on desktop. Since then, mobile has only become more widely used. Here are some fast facts:
Total activity on smartphones and tablets accounts for over 62% of digital media time spent (ComScore)
More than 75 percent of all Americans who use the Internet (age 18+) now access digital content on both desktop an mobile devices (increase from 68% last year)
21% of Millennials no longer using desktop computers to go online
The age 55+ consumer segment is the fastest growing faction of mobile users. 74% of them are either multi-platform users or mobile-only. ...

0 comments | Leave a comment

---

| Tweet | |

To the untrained eye, it might seem like responsive and adaptive design are the same. Afterall, they have the same goal: to opimize web content for consumption on a mobile device. As a whole, mobile web design has become increasingly important since Google's Mobilegeddon, and some sources believe that mobile traffic will actually overtake web traffic by 2018.

Mobile web developers have taken two different approaches to designing for mobile web, responsive design and adaptive design. Here's the difference:

A responsive site is designed as a whole, with a single HTML codebase that is delivered to each device. The browser then uses tweaks to the CSS, which determines the layout of a web page, to adjust the layout depending on the size of the screen. So, when you drag the corners of your browser window to resize it, you can see the site grow or shrink until it reaches a breakpoint. Then, the layout of the site will reload to suit the new dimensions of the screen. Mostly, it's about...

0 comments | Leave a comment

---

| Tweet | |

In visual art, negative space plays an essential role in guiding the viewer's attention to the subject. In user interface design--or in this case, website design--white space is the designer's equivalent to negative space, and it is a key element of successful web design.

Have you ever been to a website with so much going on that you have trouble focusing on any one feature on the page? Take a look at the World's Worst Website Ever for an extreme example of the visual disaster that ensues when one ignores the importance of white space on a web page.

According to this study by Fast Company, a business media brand with knack for innovation in technology and design, white space has been proven to increase reader comprehension by up to 20%. Its power comes from the limits of human attention and memory. That's not to say users are incapable of focusing on multiple items on a page at once, but too many items on a page will make it more difficult for users to complete the task set...

0 comments | Leave a comment

---

| Tweet | |

Garfinkel's (or Garf's, as it is locally known) has been a cornerstone in Lionshead for both tourists and locals alike since 1993. Their sunny deck provides the best aprés ski, sun catching and overall late spring and summer experience. Over the years, some things have changed but the feeling of Garfinkel's as a classic ski town sports bar/grill remains the same. Seasons pass by, memories are created, good times are had, and lifelong friends are made.

In 2008, Garfinkel's came to us to design and build a website that would help them tell the Garfinkel's story. Recently, they asked us to spice up their site with an update that would make the user experience more seamless. Using a content-manageable, responsive design, we made their entire website mobile friendly (they will now survive Mobilegeddon). Now, interested patrons can view their menus and special events calendar on any device or purchase a Garfinkel's Gift Card through ecommerce.

The walls inside of Garf's tell the...

0 comments | Leave a comment

---

| Tweet | |

Gore Range Partners is an independent investment banking advisory firm with proven capital raising, restructuring and execution expertise across global capital markets. This middle market investment banking advisory firm is formed around a broad base of risk management, investment banking, and capital markets experiences to provide capital raising and structuring advisory services to senior management and board of directors.

For their project, Avid Design was entrusted to create a new identity kit to re-enforce the Gore Range Partners' brand, as well as a mobile friendly website to ensure the optimal user experience across all devices.

If you, or your firm are looking for objective structuring and business risk decision making experience, then be sure to reach out to our friends at Gore Range Partners.

0 comments | Leave a comment

---

| Tweet | |

We took a tropical twist for a few weeks, switched our Pandora station to island music, and mentally transported ourselves to the white beaches, sunshine, and crystal blue waters south of the border. First stop Coral Beach Village in Utila, Honduras. Coral Beach Village offers travelers everything from an unspoiled Caribbean setting to a 300+ acre resort where visitors can simply stay for a vacation, or look into property ownership and become a more full time resident.

Coral Beach Village came to Avid Design looking for a website to showcase the lifestyle, community, amenities, and their green by design island properties! Coral Beach Village's new content manageable website features email collection for future marketing efforts, responsive design for the optimal user experience across desktop resolutions, tablets and phones, plus the integration of iHotelier's booking engine to seamlessly interface the online reservation process with the resort's POS.

If you're looking for that...

0 comments | Leave a comment

---

| Tweet | |

Did someone say Latin American cuisine at affordable prices in Vail? ¡Bueno!

Step outside the box as El Sabor is not your typical Mexican restaurant in Vail, Colorado. In fact, this distinctive new restaurant across from the Eagle Bahn Gondola in Lionshead Village specializes in Latin inspired dishes from Mexico, South America, Central America, and Spain, where you can set your sights on a street taco, or something more grandiose like Red Snapper Veracruz! So when El Sabor reached out to Avid Design to help with their website needs, we were left with no choice but to result to bribery and ridiculous hostage like demands for their food and speciality tequilas in order to stay energized enough to complete the project! That's our story anyway, and we're sticking to it!

To keep their customer's satisfied, we served up a new website complete with responsive design so that customers who were out and about in Vail could easily view the El Sabor menu on any mobile device and have the best...

0 comments | Leave a comment

---

---

Page {e2c518d61874f2d4a14bbfb9087a7c2dcurrent_page} of {e2c518d61874f2d4a14bbfb9087a7c2dtotal_pages} pages {e2c518d61874f2d4a14bbfb9087a7c2dpagination_links}
The phenomenon by which my idea's are transformed from concept to reality that strikes a balance between beauty and functionality is Avid Design. Thank You Avid for accepting every challenge,... read more