Even in the digital age, print still plays an important role in the marketing universe! While having a strong web presence is important, it is also necessary for printed materials to mirror your branding to increase brand recognition on every touch point.
-bōl Menus: bōl is a luxury bowling alley located in the heart of the Vail Village. However, the menus in place at the restaurant did not match the look and feel of the business. Because of this, bōl tasked Avid with creating new menus that were easier to read, featured a sleek design that mirrored the interior of the bowling alley, and would be appealing to their high-end clientele with the use of subtle bowling motifs.
-Vail Renovations: Vail Renovations is a construction company that specializes in renovating spaces, with a talent for woodwork. To tie these elements together, the design pulled inspiration from blueprints and natural wood texture.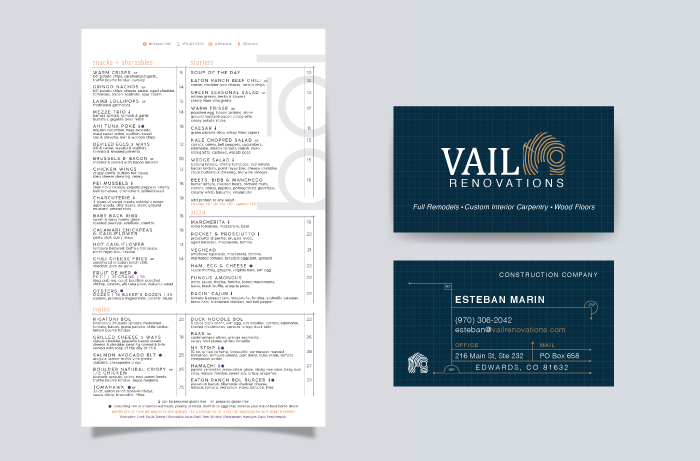 -DataPath's DKET: Avid loves making non-sexy satellite communications equipment sexy. In short, the DKET is a massive piece of satellite communication technology. It is large, tan, and extremely complicated. Our team was tasked with creating materials to market the DKET in an attractive and appealing way. The result? A booklet with information presented in a digestible manner using smart design elements that bolstered the sales of the equipment.
-Hala Brand Book: The Outdoor Retailer Show is where store owners and outdoor companies meet to determine which products will end up in retail shops across the country. And over the past few years, the Stand Up Paddle Board industry has absolutely exploded due to ease and accessibility of using inflatable boards on lakes, rivers, and oceans. Because there are so many SUP companies, Hala was looking for a brand book that presented the information about the different products in an inviting and informative way without inundating the readers with facts and figures. The book also needed to match the design of the boards, which feature bright and fun colors and interesting shapes.